Many of you know about (and were party to) the collection of postcards that Barney had hanging up in his room. Also, that he was fond of lighthouses. One day a postcard arrived with a lighthouse on it and underneath the photo were the words: "Old Barney". We were totally impressed. Neither one of us had ever heard of any lighthouse called Old Barney. He had me hang it up on the wall where he could see it. Turns out, it's in New Jersey at the very north end of Long Beach Island, in a town called Barnegat – another place we hadn't heard of.
The card arrived summer before last, about the time I (coincidentally) started checking in regularly at a blog called: A Planet Named Janet by a talented painter named Janet Nelson. Not only was the art great and fun to look at but I loved the name of it as well probably because I had a friend named Janet (still do) who I thought, also deserved to have her own special planet.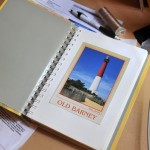 After Barney died I collected his things and stored the boxes in my basement for a while. Among them was the "Old Barney" postcard which I brought upstairs and promptly glued into an empty journal that I planned to take along with me to Baltimore. I then laid the journal on top of a rather large dog crate that lives in my office and left it there. Not long after, Janet (the artist) had a giveaway contest. Leave a comment on her blog and she would send a random winner an original 5×7 painting. This went on on for a number of weeks and luckily, I won the very first one and the last. When the first painting arrived, I was ecstatic. I know it sounds crazy – but being something of an artist myself, I have no budget for art so I'm forced to be creative with whatever I can find. So here's this wonderful little painting of an apple and I tell myself that maybe it would be nice if I sent Janet a thank-you card and in order to save her address, which I never even glanced at, I put the envelope over on the crate too, with the journal.
Originally, I planned to head to Baltimore around the fourth of July so sometime in June, I started looking for hotels and trying to plan something that would include a little side trip to a beach. I didn't really care where, as long as Stella and I could go there and hang out for a day or two. One night I spent hours just searching around for affordable beach towns online. It turned out none of them were terribly dog friendly, at least not prior to October and although I really didn't want to wait that long, I decided to postpone the planning for a few days.
That night I woke up in the middle of the night. Unable to go back to sleep, I got up and wandered into my office. When I turned on the lamp I noticed the still-empty journal there on the dog crate and flipped open the cover to reveal Barney's postcard. I stood there looking at it in the yellow light half wishing I were there and in one smooth motion my eyes moved to Janet's envelope underneath, the rich black ink on its surface unmistakably the handwriting of an artist. Standing there at three-forty in the morning I read the return address on that envelope for the first time.
Barnegat, New Jersey.
A few weeks later, I read on Janet's blog that she was going to be involved in an art fair at the lighthouse. I commented to her that I was sorry to miss it and that I had a rather odd connection to the place. Without warning, I opened the mailbox one day about a month before our trip and found another envelope. Thinking I'd somehow won another of her paintings I opened it to find a wonderful Gocco print of Old Barney, fashioned on a paint chip.
Unfortunately, Janet was leaving town on the day we arrived so I wasn't able to meet her in person but I did stop by the gallery where there's a wonderful assortment of her art for sale. I recommend the field trip but if you can't make it then by all means, shop online. She's also restarted the painting giveaway on her blog so if you'd like to play, (shipping is free!) leave a separate comment for each of the paintings you like and good luck – because I'm working on a triptych and for the record, I have yet to send the thank you card that started all of this.
A Planet Named Janet
Gallery 1603, Surf City, New Jersey
Old Barney, Long Beach Island Journal
The postcard collection on Barney's wall