(I think we left off with us in Oaklawn Cemetery, in Baltimore. There's one more post about Barney and Baltimore after this, then we'll move on to a different topic.)
We took turns scattering Barney's ashes on the grave. I brought along a little rake to sift them to the earth; keep the wind from catching his sails and carrying him off. We talked for awhile and went off in search of the grave of his Aunt Agnes. He'd mentioned her plenty of times, how good she was to him and how she seemed to understand the combination of addiction and depression that consumed him. She filled the hole his mother left and expected nothing in return. And got it. We were unable to determine the exact location of her grave as her family had provided no marker. Eventually, after skirting the area, following a map the cemetery provided and standing on several unmarked plots, we returned to our cars and said goodbye. I forgot to tell them that despite his behavior, he always loved them. He wanted to be the "good" dad but alcohol prevented it. Those aren't his words, they're mine. He never blamed anyone but himself. Subtract the disease, and (as usual) there was a really nice person under there.
As many times as he'd told me about it, Baltimore seemed a familiar place. I wanted to spend more time cruising around the blocks that sidled up to Eastern Avenue. South Ann St., where Barney grew up was on the way back to the hotel and again, I ran upon it without realizing where I was. As a kid he was just a few blocks from the water. I wondered if his love of lighthouses grew from that place, a place he was trying to get back to. I would've never asked Barney to quit drinking and he didn't shine to those who did, but I did ask him once if there had been a pill he could take that would cure him of it, would take it? I expected his usual resistance but got none. "Yeah," he said resolutely, "if I could go back and fix it I would. A few seconds lapsed. On the television, Detective Bobby Goren solved yet another murder. "But it's too late now," added Barney, "I'm goin' outta' here feet first."
"You could go see Fort McHenry," he said one day, out of the blue. "That's where that guy wrote The Star Spangled Banner you know? José Can You See? Or there's a church, it's pretty famous, the steeples or whatever you call those things, fill up with birds every night," he said, "thousands of 'em". Of all the places Barney mentioned, that's the one I didn't get to; the church with the birds. I had forgotten to find out the name of it, thinking I could always Google it and find out once I got there. Once there, I had sensory overload not to mention a dog in tow, and forgot all about it.
One day after I got back, I turned on iTunes and put it on shuffle. My player has a ton of sound clips from interviews that I've saved so anytime I put it on shuffle, it's a party. I never know which old friend is going to start talking next. It can be a little unnerving at times but it's never dull. So it was turned up pretty loud and I was downstairs putting clothes in the dryer when suddenly I heard Barney's voice coming from my speakers. "Holy Rosary Chruch" he said. "That's where the birds fly in every night, or used to. It looks like a tornado. You should see it."
Turns out, I did see it Barney, when I stopped to walk Stella at Patterson Park. I just didn't know that was it.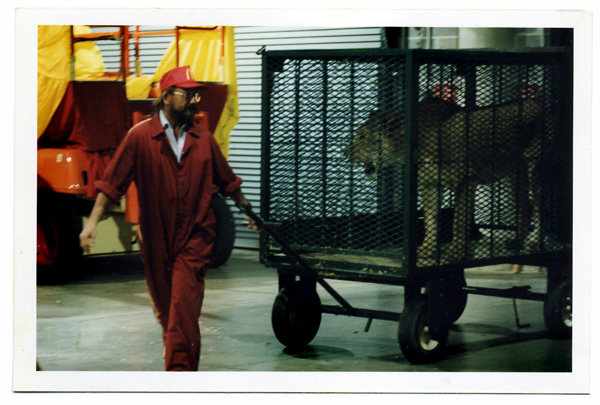 Holy Rosary Church
Holy Rosary Catholic Church, Archdiocesan Shrine of Divine Mercy, Baltimore, MD
(on Flickr)
Mother Teresa relics visit Baltimore chapel (old news but interesting)